Enabling Veeva OpenData subscriptions
When you subscribe to Veeva OpenData for a country and enable the subscription, HCP and HCO data can be downloaded to your Network instance.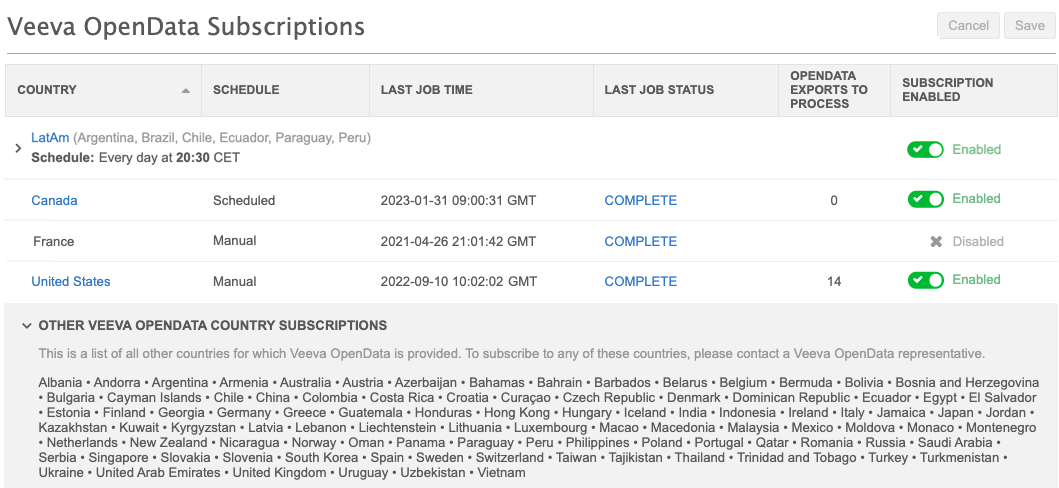 Subscribed countries
The active country subscriptions are listed at the top of the page. Country subscriptions that have been subscribed to but have not yet been configured, or that have previously been active are also listed.
The list includes details about each country in the following columns:
Country - The country that you have subscribed to. If the country is enabled, the country name is a link. Click the country name to open the subscription configuration.
By default, the countries are listed in alphabetical order (ascending).

Schedule - Indicates if the country subscription is scheduled to run or is run manually.
Last Job Time - The last time that the subscription job ran.
Last Job Status - The status of the last subscription job that ran. Click the status to open the Job Details page for the last job.

Status - Indicates if the country subscription is enabled or disabled.

- The subscription is configured. The country name is a link to navigate to the subscription.

- The subscription has not been configured or it has previously been active and is no longer used. The country configuration cannot be opened until it is enabled.

- The subscription has previously been enabled and at least one job has run, but you no longer subscribe to this country. It cannot be enabled on this page.
If no country subscriptions have been enabled in your Network instance, the Veeva OpenData Subscriptions page contains only the list of available countries.

Other Veeva OpenData country subscriptions
Countries that have not been subscribed to are listed in this section at the bottom of the page.
Sort the table
Sort the table by clicking a column header. Your sort order is retained when you revisit this page in future sessions.
Enable or disable a Veeva OpenData subscription
To enable or disable a subscription for a particular country:
On the Veeva OpenData Subscriptions page, select one or more countries to enable or disable. If the country subscription is disabled and does not display a toggle, the subscription cannot be enabled.
At the top right of the page, click Save.

In the confirmation dialog, click Yes to enable or disable the subscription or No to cancel the change.