Filters and aliases
Filters and aliases can be configured by Veeva to assist the matching outcomes. Use filters and aliases to improve the matching outcomes by making the data more consistent during the matching process.
Filters - Can be configured to remove words from a string and aliases can be used to use an alternate name for a word, multiple words or an entire string. They are applied to any record during the match process and they are applied to both incoming records and existing records in a Network instance.
Aliases - Often used to use an acronym consistently (change NY to NYC) or change an acronym to the full text (change VA to Veterans Affairs).
Filters and aliases are configured outside of your Network instance by Veeva. For more information, contact Veeva Support.
Examples of filters and aliases
Review the examples to understand how aliases and filters can alter the field values to help match outcomes.
The Filters column lists words that are removed from a string.
The first entry in the Alias List column is what is used if any of the words to the right exist in a string; for example, HOSPITAL is used if HOSP is in the string.
Corporate Name field value

Filters

Alias List

Corporate Name field value used during match

Bptst Hosp of Omaha
of
HOSPITAL

▯

HOSP

BAPTIST ▯BPTST

BAPTIST HOSPITAL Omaha
West Palm Hospital
 
COLUMBIA HOSPITAL

▯

WEST PALM HOSPITAL
COLUMBIA HOSPITAL
Radiological Cntr Services Services of WNY LTD

of, LTD

remove duplicate words

RADIOLOGY

▯

RADIATION, RADIO, RADIOLOGICAL

CENTER ▯ CENTRE, CTR, CNTR

Western New York ▯ WNY

RADIOLOGY CENTER Services Western New York
Suspect match tasks
Suspect match tasks indicate match aliases and filters when they are used by the match process. Suspect match tasks displays any data that was adjusted by aliases and filters so data stewards can understand why the records were considered a match. For each field value that was changed, data stewards can view the altered value of the field that was used during matching.
It applies to suspect match tasks and source deduplication suspect match tasks.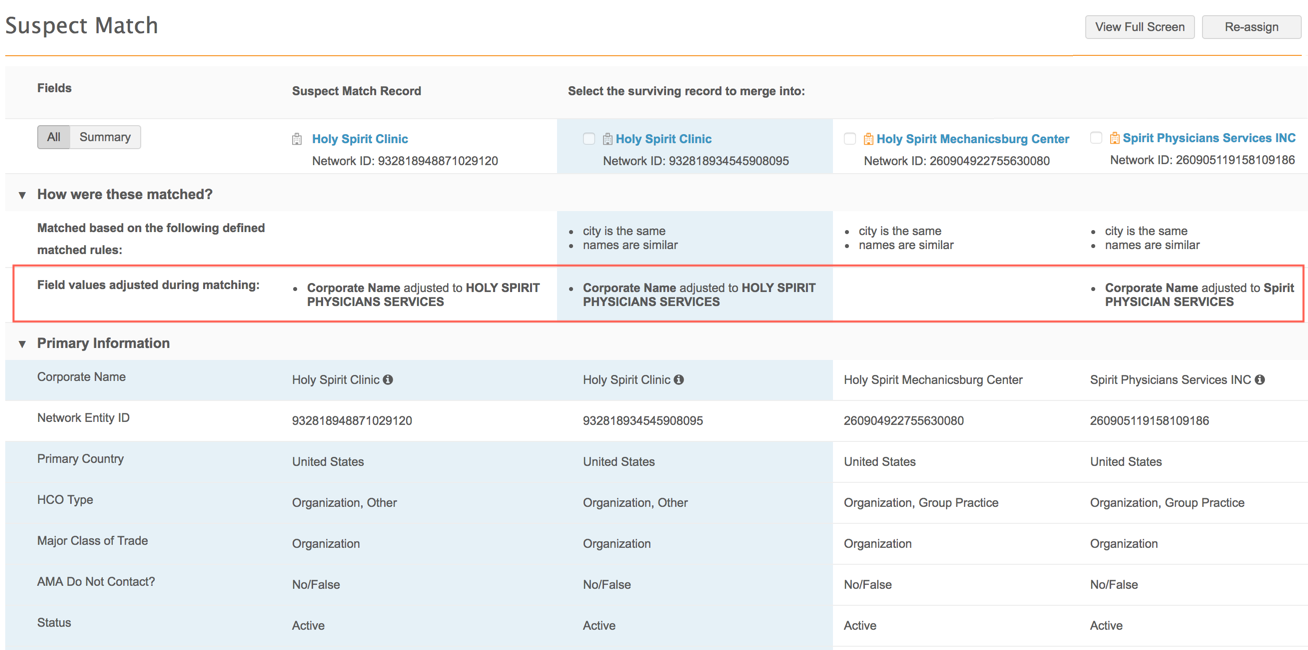 Note: Aliases and filters are not applied when suspect match tasks are created by data stewards using the Find Suspect Match feature in the Network UI; match rules are not applied to these tasks.