Using the My Request widget
The My Request widget enables business users to view the data change requests that they've submitted.
Viewing requests
The main page of the My Request widget displays all of your submitted requests.
Each request displays the following information:
Type - Add or Change request

Requester Comments - Notes that you added to the request.

Submit Date - The date you sent the request

Status - The task status (Accepted, Partially Accepted, Pending Review).
The list can be filtered by the Type and Status columns or you can click Sort by Date to sort the list by the Submit Date column. Use the search field to search for a specific request.
Note: Requests submitted through the Affiliation widget do not display.
Hashtags
Hashtags display below the record name to help summarize the important details. Only records with a Veeva ID (VID) display hashtags. Add requests that do not have a VID do not display hashtags.
Hover over the hashtag to view a tooltip. Some hashtags might contain additional information like custom keys or IDs. Click the Copy icon to copy the info into your clipboard so you can use the information.

A count displays beside the hashtags if there are more hashtags on the record. Click the count and the additional hashtags will display on the row below.
Request details
Click a request to view details about the status, requester comments, and resolution notes.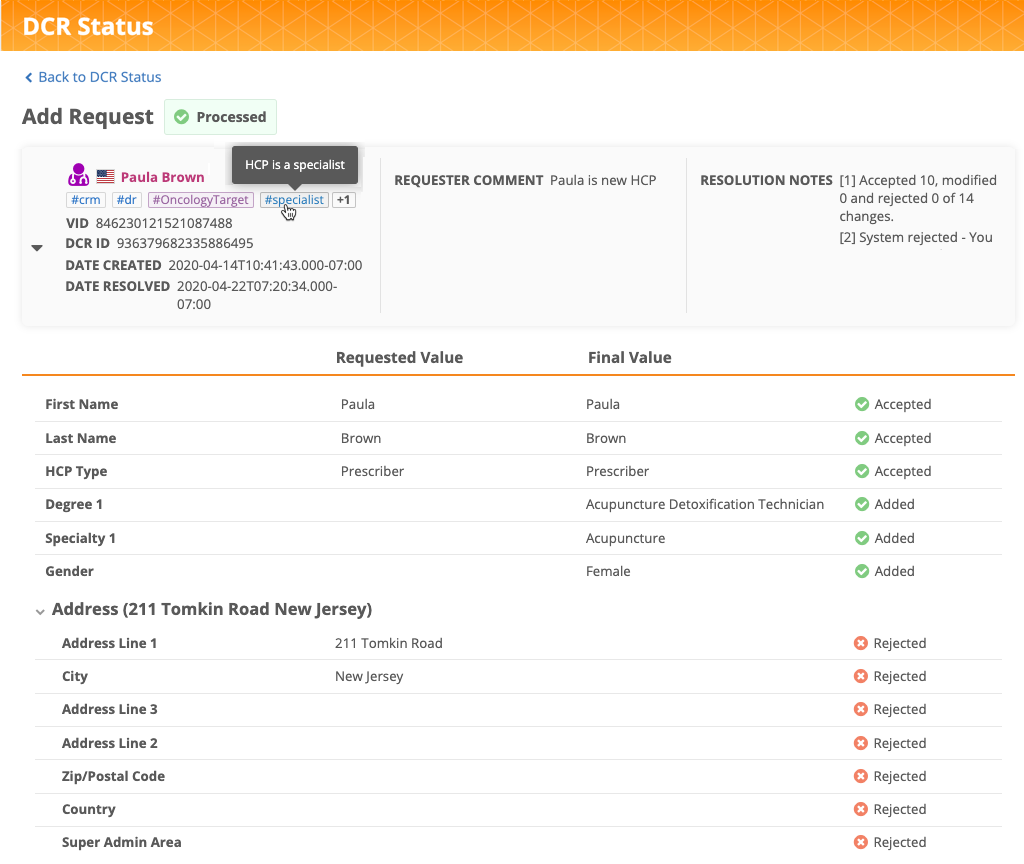 On processed requests, you can review the results of the DCR line items. You can see your original requested value and any values that were changed by Data Stewards.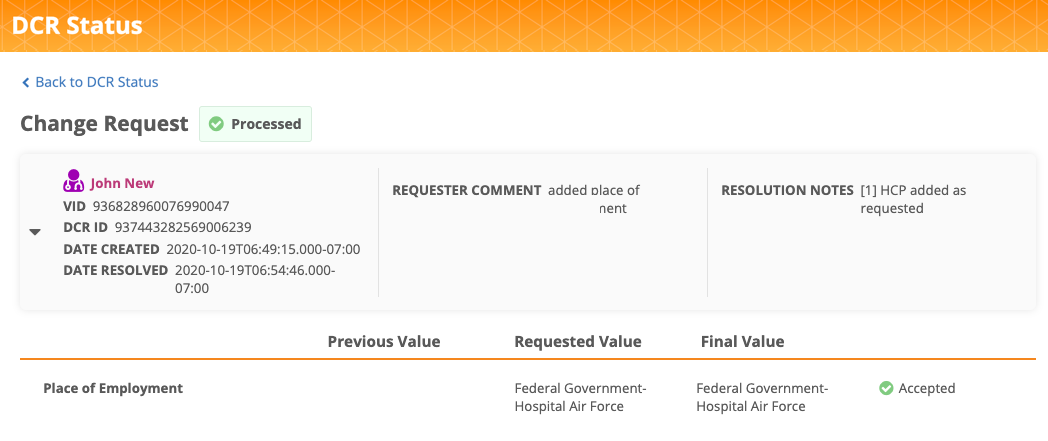 Matched records
If you submit an add request and it matches to an existing record, a message displays at the top of the request to advise that your add request has become a change request.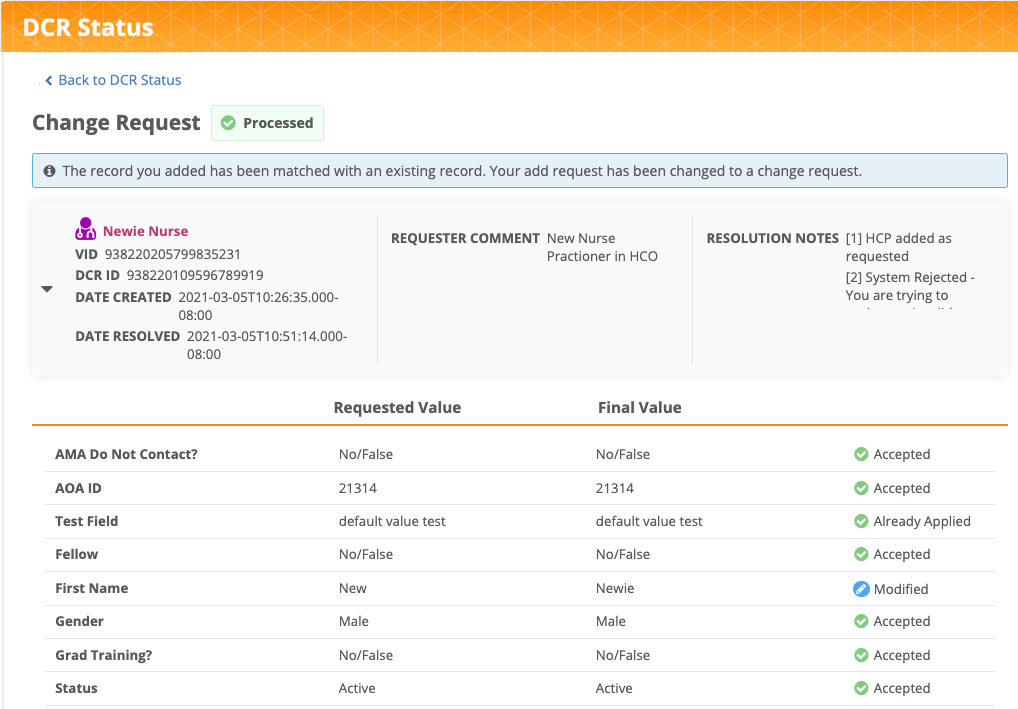 View a record profile
If a processed request has become a record, you can click the name on the record to open the profile.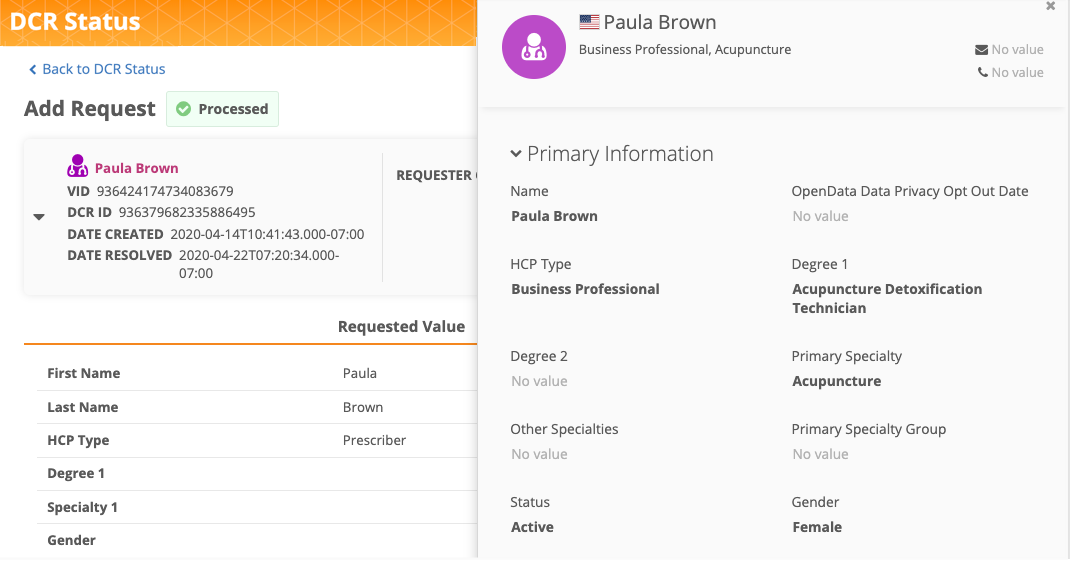 Tip: To display only the relevant information for business users, administrators can configure the widget to use a reduced profile layout by defining a custom layout in the widget configuration.