Starring profiles
When you star a profile, Network creates a link to that profile to make it easily accessible, similar to a bookmark or favorite. Whenever you log in to your Network instance, you can quickly view and open starred profiles.
Star a profile
You can easily star a profile from a number of places in the Network interface. Click the hollow star beside the profile name; it will become a solid color to indicate that it is now bookmarked for you.
Search results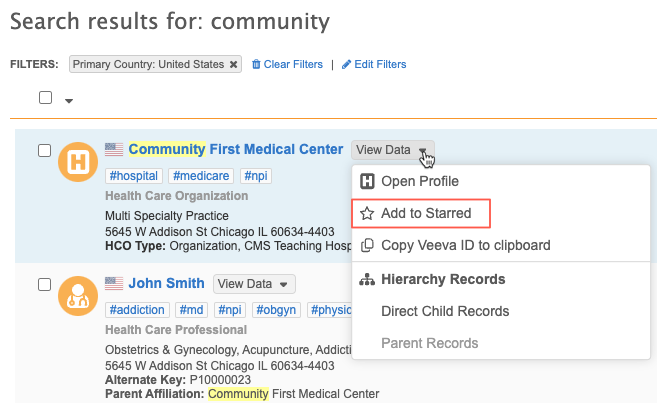 Profile page

Inbox


If a star does not display beside a profile name, you do not have access to that object.
To remove the star from a profile, follow the same steps. A hollow star indicates that the profile will not appear in your starred list.
View starred profiles
Standard users see starred profiles when they log in. For other users, or standard users who want to navigate back to their starred profiles:
Click the HOME tab in the top navigation, and select Starred on the home page.

When the Home Dashboard feature is enabled, starred entities are not available here for administrators and data managers.

Click Starred on the Network menu bar.
The list of starred profiles displays in the main view. Each profile includes a flag icon to indicate the country to which it belongs.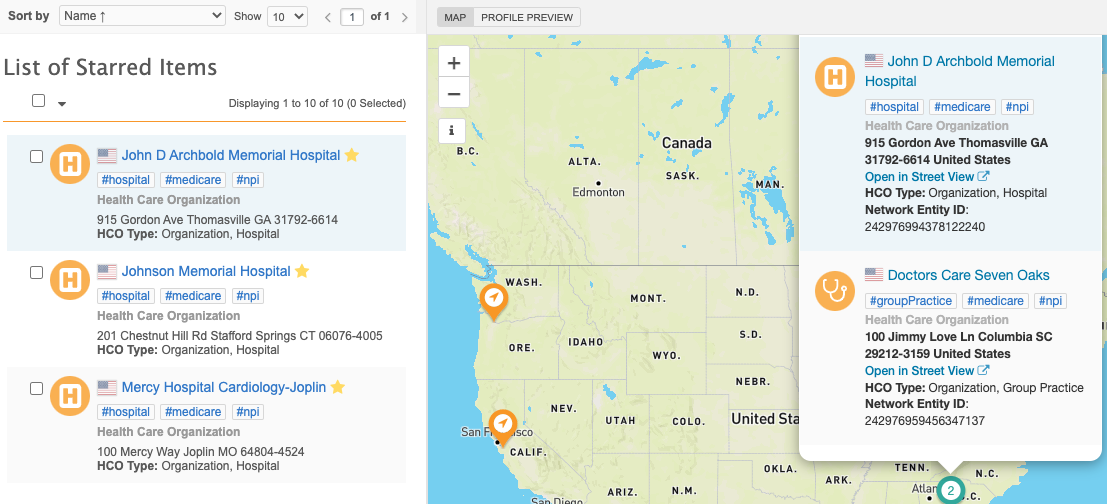 The Map view displays pins for the starred record profiles if the records contain an address. To view record details, select the checkbox beside a record and click Profile Preview. A preview of the record displays.
To edit a record or view more details (for example, Revision History or Data Lineage information), click the record name or click View Full Profile in the Profile Preview pane.