HCO icons
HCOs have many icons to help you easily differentiate HCO types. For example, the icons help you identify an HCO from search results when HCOs have the same name but different types. The icons are used for all record owner types (local, Veeva OpenData, third party data providers) and all record states.
These specific HCO icons are used throughout the Network UI, the Network Portal, and Network widgets. They are enabled by default.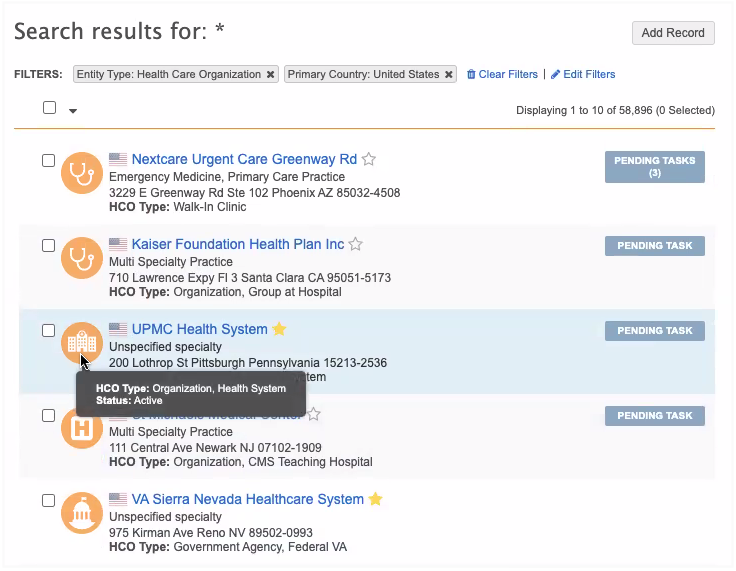 Icon mapping to HCO type
For consistency, the icons are the same icons that are used in Veeva CRM. Only the new Health System icon is different because it is specific to Network.
HCO Type

 
HCO Type Name
Reference Code
Dentistry
Organization, Dentistry Group
4:18
Distributor
Distributor, Medical Equipment
6:2
Distributor, General
6:1
Distributors, General
4_4
 Extended Care
 
Hospice
4_71
Nursing Home with Pharmacy
NHP
Organization, Nursing Home / Long Term Care
4:8
Organization, Residential Facility
4:31
Organization, Hospice
4:41
Organization, Other Residential Long-Term Care Facilities
4_95
Government Agency
Government Agency, General
26:1
Government Agency, Health Department
26:4
Government Agency, Federal Military
26:9
Government Agency, Federal Public Health Service
26:11
Government Agency, Federal VA
26:13
Government Agency, Federal Indian Health Service
26:12
Government Agency, EMS Department
26:7
Government Agency, State Medicaid Program
26:2
Health Authority/Board
28:1
Health Care System Administration, Government Health Administration
36_1
Health Care System Administration, Other Administration Agencies
36_4
Organization, Government
4:13
Group Practice
Walk-In Clinic
4:44
Organization, Clinic
4:5
Organization, Dept at Clinic
4_55
Organization, Group Practice
4:4
Organization, Group at Hospital
4:2
Organization, PHS Outpatient
4:42
Organization, Chiropractic Group
4:25
Organization, Podiatry Group
4:27
Ambulatory Surgery Center
45_1
Organization, Alternative Medicine Group
4:26
Organization, Occupational Therapy Group
4:28
Primary-level Medical and Health Care Institutions, Community Health Service Center
3_2
Primary-level Medical and Health Care Institutions, Village Clinic
3_1
Primary-level Medical and Health Care Institutions, Clinic/Healthy Center
3_4
Organization, Single Private Practice
4_91
Organization, Shared Practice
4_41
Health Systems

 

Organization, Health System
4:37
Legal owning entity of hospitals and clinics
LE
NHS Trust
36_10
Commissioning Region
36_7
Clinical Commissioning Group
36_6
Area Team
36_5
Health Boards/Trusts (Devolved UK nations)
HB
Hospital
Organization, Hospital
4:6
Organization, CMS Teaching Hospital
4:35
Hospital, Mental Health
32_23
Hospital, General Hospitals
32_22
Mental Health Hospital
1_7
Children's Hospital
1_3
Hospital, Other Specialized
32_11
Hospital, Teaching and University
4_56
Hospital, Oncology
1_21
Hospital, Dermatology
1_10
Hospital, Military
1_1
 Hospital Department
 
Department
5
Organization, Clinic at Hospital
4:7
Organization, Dept at Hospital
4:1
Infusion Centers
Blood Transfusion Centers
3_6
Dialysis & Infusion Center
29:1
Dialysis & Infusion Centers, Other
29:98
Dialysis & Infusion Centers, Corporate Office
29:99
Dialysis & Infusion Centers, Hospital-based Dialysis/Infusion
29:2
Institution
Education Establishment
4:12
Medical School, Dental
14:5
Medical School, General
14:1
Medical School, Nursing
14:6
Medical School, Other
14:98
Medical School, Pharmacy
14:10
Medical School, Psychology
14:14
Residency Program, Residency
15:1
 Laboratory
 
Ancillary Services, Medical and Diagnostic Laboratories
33_2
Imaging Center
4:88
Organization, Lab
4:10
 Pharmacy
 
Drugstore (OTC Only)
11_13
Pharmacy, Community
11_18
Pharmacy, Compounding Pharmacy
11:12
Pharmacy, Corporate Office
11:99
Pharmacy Group
11_14
Pharmacy, Home Health
11:3
Pharmacy, Hospital
11:2
Pharmacy, Large Retail Chain
11_15
Pharmacy, Long Term Care Pharmacy Provider
11:5
Pharmacy, Mail Order Pharmacy
11:4
Pharmacy, Oncology Specialty Pharmacy
11:7
Pharmacy, Other
11:98
Pharmacy, Other Specialty Clinic
11:97
Pharmacy, Pharmacy Benefit Mgmt Org
11:6
Pharmacy, Retail
11:1
Pharmacy, Retail Multiple
11_16
Pharmacy, Retail Sellers and Suppliers
11:96
Pharmacy, Specialty Pharmacy
11:10
Other

All other HCO types will retain the current Network HCO icon.

This includes custom HCO types and HCO's that have no HCO type value.

 
Tooltips
Hovering over the icon displays the HCO type and the record state or status to match the badge displayed on the icon. This could include the Privacy Opt-Out or Candidate Record indication.
Examples