Google Analytics consent
Network uses Google Analytics® cookies to analyze your interaction with the application so we can continue to make improvements. To comply with data privacy regulations, you will be asked to consent to allow Network to collect your anonymized usage data through Google Analytics.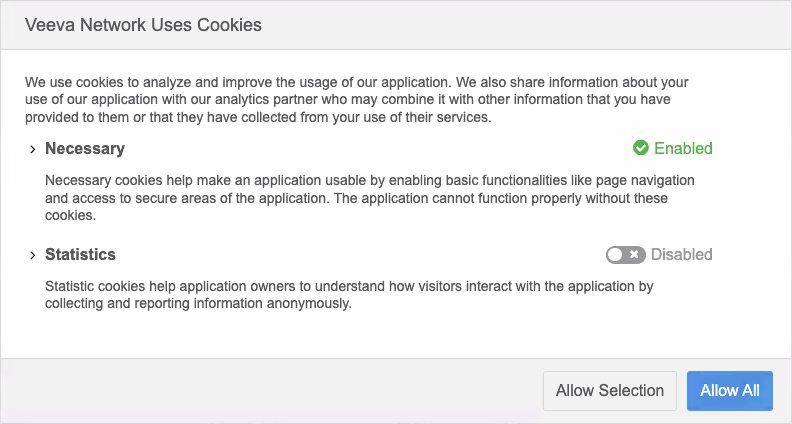 As a new user, you are asked for consent the first time you log into Network.
Providing consent
When the Veeva Network Uses Cookies dialog displays, you must make a choice before you can continue and access the Network application.
The dialog provides details about the cookies that are used:
Necessary - Cookies that are, for example, used to manage your session within the application. These cookies are mandatory and must be accepted.

Expand the section to see a comprehensive list of all cookies that could be used for all user types and all Network application features.

Statistics - Cookies that Google Analytics sets on your computer so Veeva Network can collect anonymous data to help improve the application. By default, these cookies are disabled.

Expand the section to review the cookies that will be set and to learn more about why the data is collected. Click the link to navigate to Google's privacy policy.
Choose one of the following options:
Allow All - Allow both the Necessary and Statistics cookies. The Necessary cookies are enabled by default, so this option allows for the Statistics cookies to be set on your computer.

Allow Selection - Accept the current selection; allow only the Necessary cookies. This choice will opt you out of allowing Google Analytics to set cookies on your computer for usage data.
Reviewing consent
The Veeva Network Uses Cookies dialog displays only one time. After you make a choice, you can review or change your consent on your user profile.
To view or change consent:
On the Network menu bar, click your user name and select My Profile.

In the Settings section, the Usage Feedback contains your consent details.

If you modify the setting, Apply your changes.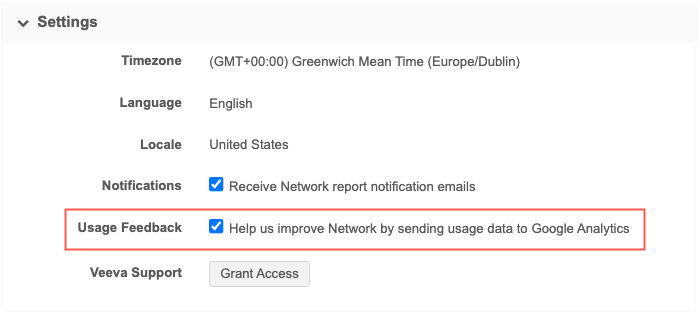 Logs
Administrators can track in the System Audit History whether a user confirmed or updated their usage tracking setting.
Example log
This log entry indicates that the user was presented with the dialog and confirmed or updated their usage tracking setting.