Export inbox tasks
Data stewards can export a summary of tasks from the inbox to a spreadsheet, to a maximum of 2,000 tasks. An administrator must enable this functionality for each inbox task group.
To export the current list of tasks according to visible columns (or a subset of the tasks, if filters are set), click Export at the top right of the inbox. In the Confirm Export dialog, click Export.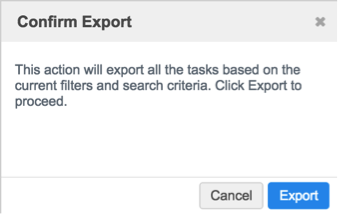 A system message at the top of the page indicates that the operation is in progress. Once it completes, a .zip file containing the spreadsheet downloads to your local file system.
Example export file

Enabling the export option
The ability to export inbox tasks is based on a permission in each inbox task group.
To enable the permission:
In the Admin console, select Users > Inbox Task Groups.
On the Inbox Task Groups page, select a task group.

Beside the Inbox Export option, choose True.
Repeat these steps for each task group; all task groups assigned to a data steward must have Inbox Export option enabled so the Export button displays in their inbox.